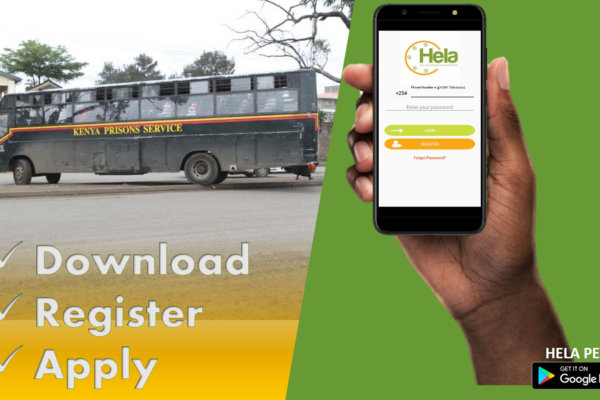 Are you a Kenya Prisons officer? Have you heard about the Hela Pesa App?
Do you need a quick salary advance loan? Are all the loan apps frustrating you?
Worry not for I come with good news!
The good news is that your challenges with receiving a mobile salary advance are over courtesy of Hela Pesa App!!
The Hela Pesa loan app, is a mobile salary advance loan app that offers salary advances to all staff of the Kenya prisons and other civil servants right from the convenience of their phones! No paperwork! No savings are required in exchange of the Advances!
With the Hela Pesa app, If you are a staff of Kenya Prisons officers or a civil servant, you can access a salary advance loan that has a very flexible repayment period. That means that you can chose to pay up within One month or within a duration of Twenty-Four months, whichever you are comfortable with.
You will also not need to leave your duty stations to travel to any branch office as , everything is conveniently done online .
Therefore, even if you are stationed in Kamiti maximum, Shimo la Tewa, Mandera , Naivasha, Nakuru ,Industrial area right here at the heart of Nairobi City or in any other station in any part of Kenya, tHela Pesa Salary Advance App ensures that you can receive your salary advance and hence sort out your financial challenge, giving you peace of mind!
Hela Pesa App is so easy to use! Registration is completed within 5 minutes.
All you need to Register is into Hela Pesa App is :
Step 1- Go to play store, search for the Hela Pesa and install
Step 2- Provide basic registration and employment details
Step 3 – Enter your Mpesa number and confirm it to request for an OTP
Step 4 – Enter OTP number
Step 5- Create password for your account to be activated
In case you maywant to directly download our app click on the link below;
All you need to do to Apply for your Hela Salary Advance is very simple:
Just click on Request Advance button and Apply for Salary Advance
The Hela Pesa team is dedicated towards ensuring that, once your send required documents on time, you receive your salary advance loan on time !
Hence you can concentrate on your noble tasks of rehabilitating inmates and we work at sending you your advance via Mpesa ,without any delays.
Usi sileki Afande, download Hela Pesa App leo ,Upate Salary Advance yako bila stress !
To learn more about the Hela Pesa kindly do not hesitate to reach out to us via call on our customer care line on +25420 7766 666 and you will be assisted immediately.
Read more