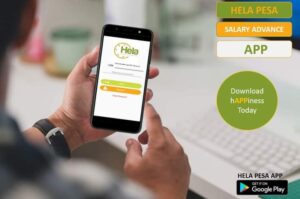 Let's admit it! We all have been there! We have made plans for the month and budgeted to our last coin, confident that, with the money. we will pull through the month. Then Pap! From nowhere, something crops up!  An offer for a good deal arises that will make us some quick, good money!!!  "Where do I get that urgent cash to enable me take advantage of that good deal and make more some profit? We ponder.
Sometimes, despite our meticulous planning, we just run out of cash, mid-month .And just like that our bubble bursts!   We are left in a dilemma.  "Do I sleep in the office and eliminate transport cost or do I just dream away my reality?"  You mutter to yourself.  But deep down you know that neither of this options is feasible.     But just as you are about to throw in the towel, up you remember HELA PESA!   With excitement your mind immediately goes to a peace mode. Alas! Your pressing need is just" an App away" from being sorted out by Hela Pesa!
Hela Pesa is a salary advance product offered to all Civil Servants, the National Police Service, and Kenyatta National Hospital, Kenya Forestry Service, National Youth Service and Nairobi and Nakuru county employees- at the click of a button.
And that's not all, Hela Pesa Salary Advance is so convenient that it has revolutionized the digital lending Industry in ways highlighted below.
Simple registration and loan application procedure: For the longest time, individuals had to face and go through a tedious and long process to be able to access a salary advance. They had to present themselves to the bank and most often than not, the process would drag to their next payday!
But with Hela Pesa the registration is online through the HELA PESA app.  You don't even have to step out of your house or office. This so convenient during this COVID19 times!
Quick loan disbursement: With Hela Pesa the disbursement of your salary advance takes as fast as 15 minutes after successful application.. Hela Pesa team is highly efficient   and trained to understand that time waits for no man, not even a King!
Seamless advance repayment method:  The Hela Salary Advance is repayable through check off system.).Unlike other lending facilities, Hela Pesa will not blow up your phone demanding for payments or call your whole clan to embarrass you. Hela repayments are collected with decorum and with no invasion of your privacy or pride
Transparency:  Accountability and transparency is a core value at Hela Pesa.
Hela Pesa Salary Advance loan does not have any hidden charges and their customers can attest to this .A Customer gets to see their loan summary before submitting their application. This ensures that they select the salary advance product that best suits their needs and convenience.
Flexible repayment terms: The Hela Pesa Salary Advance can be repaid depending on one's convenience as the loan usually runs between one month and 12 months. Hela understands that customers have different paces and priorities   hence Hela Salary Advances are a tailor made to fit their repayment schedules.
These, and, in many more others ways, is how Hela Pesa Salary Advance is revolutionizing the Digital Lending Sector
So if you are a staff of the mentioned institutions and happen to have a 'dry financial spell ' during, any month, you can confidently  download the Hela Pesa App, Register and apply to get your salary advance
UKIKOSA HELA UKIWA NA HELA PESA APP, UTAAMBIA WATU NINI??