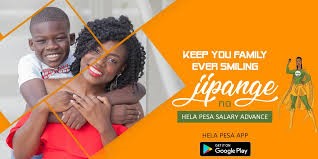 "Mahn, I'm broke!" came a message on my smartphone from my friend.
"Huh, broke? Really? Who goes broke in this modern world," I said to myself as I continued thinking, "No! No! You can't just go broke, not with these Hela Pesa times."
I replied to my friend's text message with the words, 'Hela Pesa! Hela Pesa!'
He couldn't Just get it! So, I called him. "Man, you have a smartphone, with Google play store, don't you? "He quickly answered as a matter of fact "Of cause i do, What a question, Hun?"
"The answer is in your hands, on your phone, Brah ! Just download the Hela mobile Pesa App and know why getting broke no longer happens in this country."
By downloading the Hela Pesa mobile app from the App store or the Google play store, you get to enjoy quick finance. So there is no excuse of going broke. There is no excuse of being unable to buy that item that your family urgently require. There is no excuse of not topping up on your finances to buy more stocks and make more money!
Hela Pesa Loan re payments are on check off with very easy repayment periods and no with harsh repayment policies and plans.
The fact that Hela Pesa Salary Advance services are online, all civil servants, parastatal staff, TSC and National Police service as well as selected County staff can conveniently access credit and enjoy their peace of mind
Wakati Maji imeziidi unga au matumizi imezidi Salo, No need to worry! Get your Salary Advance via Hela Pesa APP
One …… two ……three…… Let's s go! Download, Register, and Apply!
 Nisiskie tena mtu ati amesota!  Be sorted with Hela Pesa.  Alaaa! Alaaa!