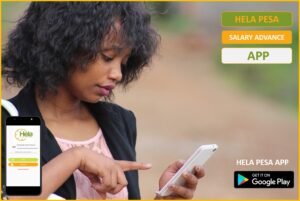 This product seeks to address the emergency financial needs for employees in between the payroll dates. 
Employees can access up to 40% of their net salary.

Product is offered on our mobile lending application dubbed "Hela_Pesa".

Salary advances are available to employees who work for organizations that have signed an MOU for the salary advance check-off system with Hela Captal Limited.
Benefits of Hela Pesa Salary Advance.
Access anywhere, anytime
No savings required
No registration fees
Comfortable repayment through check-off
Can pay directly through Hela Pesa App
No risk of loosing your money
Apply for Top-up
No guarantors.
No security
No physical approval required.
Requirements for Hela Salary Advance Application
 Be in an employee in a company that has a Salary Advance MOU with Hela Capital Limited.
 Download Hela Pesa Mobile APP and apply for your advance.
How to apply
Download the Hela Pesa Mobile App, Register and apply for the loan.
How to make payments
OPTION 1: Pay via payroll check off system facilitated by your employer.
OPTION 2: Pay directly to Hela on the App by clicking pay button, Enter Amount and Pin.